Hackers Display "blood is on your hands" on Russian TV, Take Down RuTube
​Hackers continue to target Russia with cyberattacks, defacing Russian TV to show pro-Ukrainian messages and taking down the RuTube video streaming site.
During the Russian President Putin's speech at today's "Victory Day" military parade, pro-Ukrainian hacking groups defaced the online Russian TV schedule page to display anti-war messages.
Russian citizens attempting to access TV schedules via their smart TVs read messages that accused the Kremlin of propaganda and that blood was on their hands for the acts of violence in Ukraine.
Search engines that index TV schedules like Google or even Yandex caught these anti-war messages and passively propagated them even further on the net.
Also Read: 6 Types Of Document Shredder Machine Singapore Services
RuTube taken down in cyberattack
Russian video content provider RuTube also announced that their site was offline after suffering a cyberattack.
RuTube is a video streaming site similar to YouTube, with approximately 3 million visitors per month and catering mostly to Russian-speaking visitors.
Visitors are shown a message stating that the "site is undergoing technical work" due to an attack when accessing the site. However, the service says that all user content and data remain untouched by the attackers.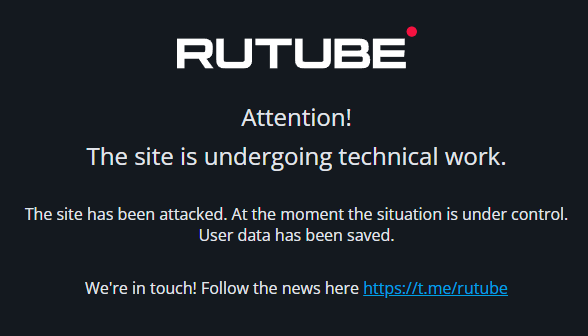 The situation is the same when trying to access RuTue from mobile or smart TV apps, so this appears to be a cyberattack on all of its servers rather than just specific platforms.
At this time, the only official way to follow any developments on the RuTube attack is through the platform's Telegram channel, which contains some additional information.
Earlier posts on Telegram explain that experts working on restoring RuTube's systems confirm that threat actors were unable to access the service's video archives and that they remain intact.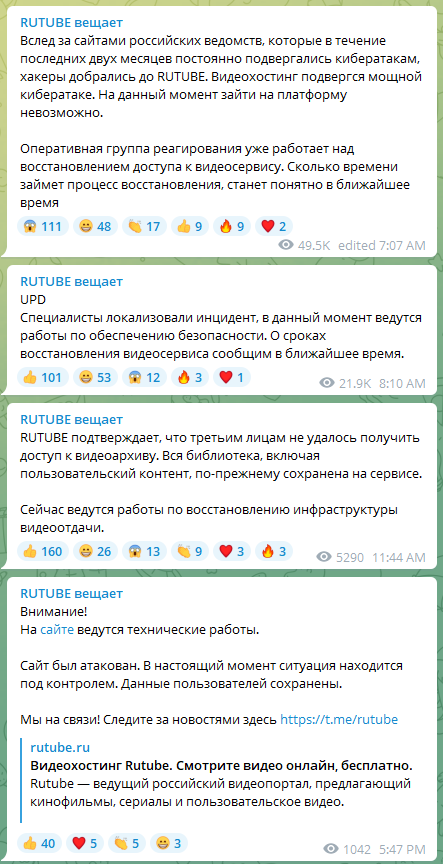 The attack is characterized as "powerful", yet its type isn't determined, and RuTube provided no estimate of when the recovery process is to be completed.
Also Read: 10 Principles On How To Build A Good Governance Model
"Following the websites of Russian departments, which have been constantly subjected to cyberattacks over the past two months, hackers have reached RUTUBE. Video hosting has undergone a powerful cyberattack. At the moment it is not possible to access the platform." – RuTube
While cyberattacks against Russia have remained steady since the start of the war in February 2022, today was a day carrying high symbolism for the country's national pride, so hacktivists who oppose the invasion ramped up their efforts.
At this time, none of the known hacktivist groups have taken responsibility for either of the cyberattacks, so it could be foreign actors, internal dissidents, or both.