Malwarebytes Mistakenly Blocks Google, YouTube for Malware
Malwarebytes has addressed an issue that prevented users from accessing websites and services hosted on the google.com domain, including Google search and Youtube.
According to a large number of reports from people affected by this, their browsers were prevented from accessing Google sites after Malwarebytes flagged and blocked them as malicious.
As many shared, they were swarmed by a barrage of malware notifications, all pointing to various websites on google.com subdomains tagged as containing malware.
"Malwarebytes pushed a bad update it seems. I couldn't access any Google websites and was getting constant malware notifications from Google websites," one impacted customer said.
"I turned off real time web protection and now it works fine. Any device I have that doesn't have Malwarebytes (Android phone, other windows devices) wasn't affected."
Also Read: August 2022 PDPC Incidents and Undertaking: A breach with no penalty
Malwarebytes quickly picked up on what was going on and explained in a tweet published in response to the stream of user reports that this was caused by a temporary issue affecting a web filtering component module in the company's security products.
"We are aware of a temporary issue with the web filtering component of our product that may be blocking certain domains, including http://google.com," the company said.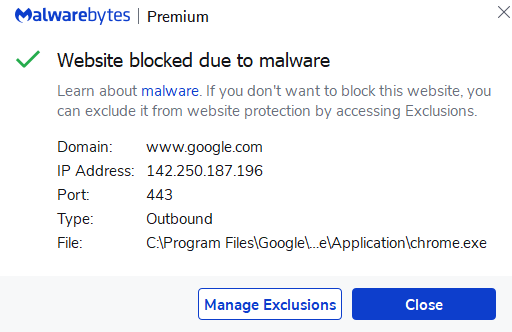 False positive fix rolling out
Malwarebytes also provided a workaround for impacted users, which required them to disable the buggy module by opening Malwarebytes and toggling off the Web Protection option in the Real Time Protection card.
One hour, the anti-malware software vendor revealed that it had resolved the issue and all customers' software would update on its own to remove the false positive errors.
Also Read: How to secure data on cloud: best practices from 3 case studies
"The issue is now resolved, and the update should happen automatically. If you are still experiencing issues, please ensure the Malwarebytes client is updated to the latest version," Malwarebytes told affected users via Twitter.
"Once alerted to the problem, our product team resolved the issue and released an update to our web protection database (version 1.0.60360)," added Malwarebytes VP Michael Sherwood in a thread on the company's forum.
"This update is applied during the normal update process, and the issue should automatically resolve. In some cases, updating to the latest database may require temporarily disabling the web filtering feature."
However, according to some reports, the issue might still impact enterprise customers since some endpoints still see Google's domains being blocked.
The most likely reason is that the update still has to finish rolling out to Malwarebytes' entire customer base.
Update: Added further info from Malwarebytes VP Michael Sherwood.