Namecheap Offers Free Anonymous Hosting, Domains for Anti-Putin Sites
US-based domain registrar Namecheap announced today that it will provide sites protesting the current regime in Russia and Belarus with free domains and web hosting.
Namecheap has more than 1,700 employees across 18 countries and manages more than 14 million domains worldwide.
It also provides domain registration, DNS, web hosting, and other services to over 2 million customers.
"Effective immediately, we will begin offering free anonymous hosting and domain name registration to any anti-Putin anti-regime and protest websites for anyone located within Russia and Belarus," the company said today.
Also Read: PDPC Data Intermediary: Guidelines for businesses to know
Anti-regime organizations who want to take Namecheap up on their offer are asked to reach out to the registrar's support for more details.
At the moment, the company said that it can only provide assistance via its online ticketing system.
Namecheap's Live support is currently unavailable, but the registrar says it's working on getting it back online as soon as possible.
Customers from Russia now banned
This decision comes on the heels of Namecheap banning customers registered in Russia, saying that it will no longer provide them with services after Russia's invasion of Ukraine.
The company also asked Russians to move top-level domains to other providers until March 6 and offered to help those who needed help with the move.
"Unfortunately, due to the Russian regime's war crimes and human rights violations in Ukraine, we will no longer be providing services to users registered in Russia," the registrar told Russian customers in emails sent Monday.
Also Read: 10 Biggest cybersecurity trends in 2022 that businesses should know
"While we sympathize that this war may not affect your own views or opinion on the matter, the fact is, your authoritarian government is committing human rights abuses and engaging in war crimes so this is a policy decision we have made and will stand by."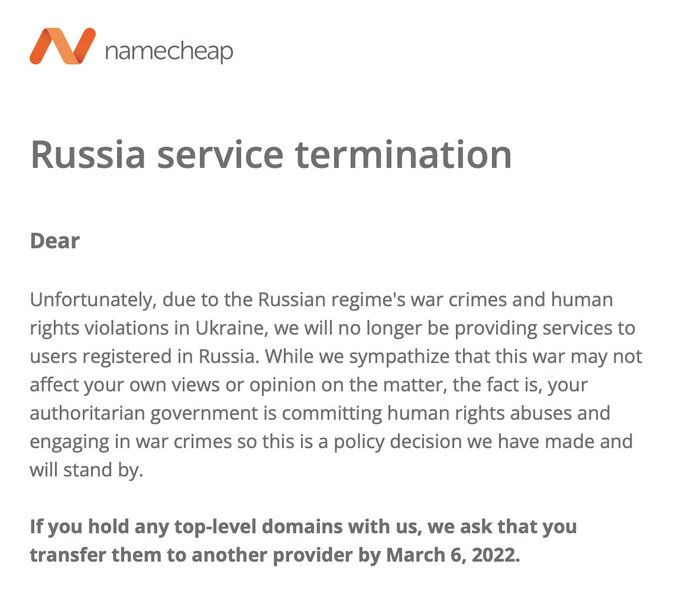 Namecheap CEO Richard Kirkendall also told Russians angry about the company's decision that they have a lot of other providers they can choose to get the same services.
"We haven't blocked the domains, we are asking people to move. There are plenty of other choices out there when it comes to infrastructure services so this isn't 'deplatforming'," Kirkendall said.
"People that are getting angry need to point that at the cause, their own government. If more grace time is necessary for some to move, we will provide it."