RaidForums Hacking Forum Seized by Police, Owner Arrested
The RaidForums hacker forum, used mainly for trading and selling stolen databases, has been shut down and its domain seized by U.S. law enforcement during Operation TOURNIQUET, an action coordinated by Europol that involved law enforcement agencies in several countries.
RaidForum's administrator and two of his accomplices have been arrested, and the infrastructure of the illegal marketplace is now under the control of law enforcement.
14-year old started RaidForums
The administrator and founder of RaidForums, Diogo Santos Coelho of Portugal, aka Omnipotent, has been arrested on January 31 in the United Kingdom and is facing criminal charges. He has been in custody since the arrest, pending the resolution of his extradition proceedings.
Also Read: Phishing scams unmasked: What really happens from planning to their aftermath
The U.S. Department of Justice today says that Coelho is 21 years old, which means that he was just 14 when he launched RaidForums in 2015.
Three domains hosting RaidForums have been seized: "raidforums.com," "Rf.ws," and "Raid.Lol."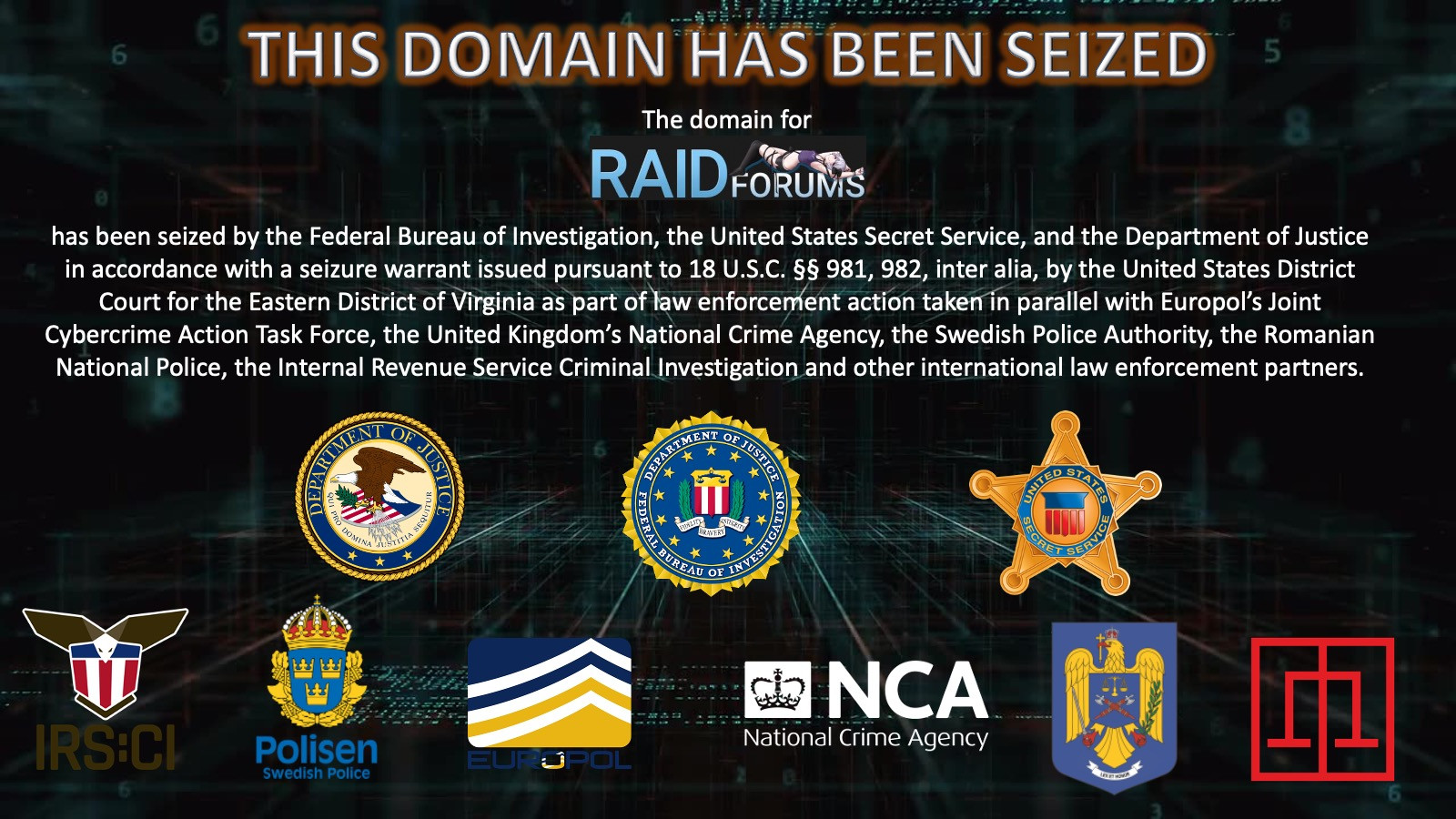 According to the DoJ, the marketplace offered for sale more than 10 billion unique records from hundreds of stolen databases that impacted people residing in the U.S.
In a separate announcement today, Europol says that RaidForums had more than 500,000 users and "was considered one of the world's biggest hacking forums".
"This marketplace had made a name for itself by selling access to high-profile database leaks belonging to a number of US corporations across different industries. These contained information for millions of credit cards, bank account numbers and routing information, and the usernames and associated passwords needed to access online accounts" – Europol
Taking down the forum and its infrastructure is the result of one year of planning between law enforcement authorities in the United States, the United Kingdom, Sweden, Portugal, and Romania.
It is unclear how long the investigation took but the collaboration between law enforcement agencies allowed authorities to paint a clear picture of the roles different individuals had within RaidForums.
The European law enforcement agency shared few details in its press release but notes that the people that kept RaidForums running worked as administrators, money launderers, stole and uploaded data, and bought the stolen information.
Also Read: What you need to know about appointing a Data Protection Officer in Singapore
Coelho allegedly controlled RaidForums since January 1, 2015, the indictment reveals, and he operated the site with the help of a few administrators, organizing its structure to promote buying and selling stolen goods.
To make a profit, the forum charged fees for various membership tiers and sold credits that allowed members to access privileged areas of the site or stolen data dumped on the forum.
Coelho also acted as a trusted middleman between parties making a transaction, to provide confidence that buyers and sellers would honor their agreement.
Members become suspicious in February
Threat actors and security researchers first suspected that RaidForums was seized by law enforcement in February when the site began showing a login form on every page.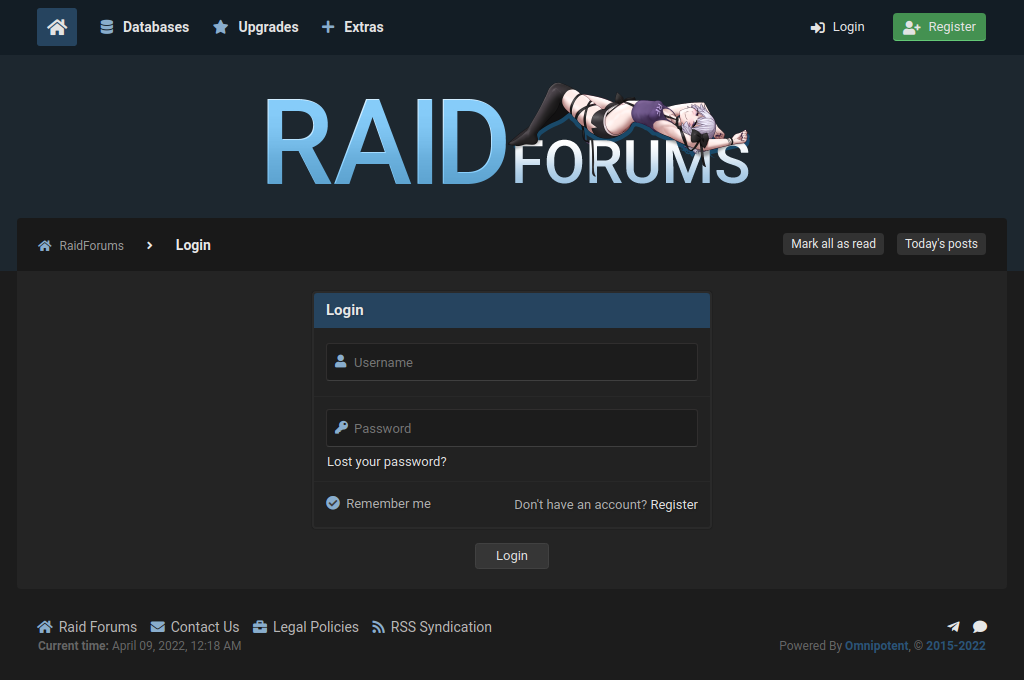 However, when attempting to log into the site, it simply showed the login page again.
This led researchers and forums members to believe that the site was seized and that the login prompt was a phishing attempt by law enforcement to gather threat actors' credentials.
On February 27th, 2022, the DNS servers for raidforums.com was suddenly changed to the following servers:
jocelyn.ns.cloudflare.com
plato.ns.cloudflare.com
As these DNS servers were previously used with other sites seized by law enforcement, including weleakinfo.com and doublevpn.com, researchers believed that this added further support that the domain was seized.
Before becoming the hackers' favorite place to sell stolen data, RaidForums had a more humble beginning and was used for organizing various types of electronic harassment, which included swatting targets (making false reports leading to armed law enforcement intervention) and "raiding," which the DoJ describes as "posting or sending an overwhelming volume of contact to a victim's online communications medium."
The site became well-known over the past couple of years and it was frequently used by ransomware gangs and data extortionists to leak data as a way to pressure victims into paying a ransom, and was used by both the Babuk ransomware gang and the Lapsus$ extortion group in the past.
The marketplace has been active since 2015 and it was for a long time the shortest route for hackers to sell stolen databases or share them with members of the forum.
Sensitive data traded on the forum included personal and financial information such as bank routing and account numbers, credit cards, login information, and social security numbers.
While many cybercrime forums catered to Russian-speaking threat actors, RaidForums stood out as being the most popular English-speaking hacking forum.
After Russia invaded Ukraine, and many threat actors began taking sides, RaidForums announced that they were banning any member who was known to be associated with Russia.