Disney+ hiring in S'pore, streaming service likely to be available soon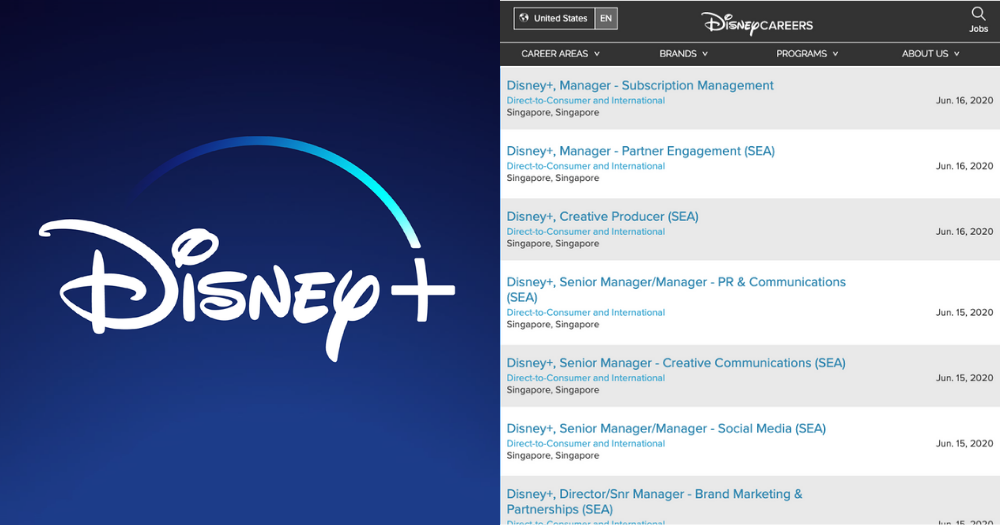 Great Shopee Sale 06 June 2020 – 07 July 2020 https://shopee.sg/gss
Earlier this month, it was reported that Disney channels have been removed from Singtel and Starhub platforms.
This raised speculations that the media company is going to launch its streaming service Disney+ in Singapore very soon.
Here's another development: Disney+ is hiring in Singapore.
Also read: Cross Border Data Privacy- A Guide for Singapore Businesses
Singapore-based Disney+ jobs
Since June 15, the Disney careers page advertised at least eight Singapore-based job listings for Disney+.
These positions include:
Disney+, Manager – Subscription Management
Disney+, Manager – Partner Engagement (SEA)
Disney+, Creative Producer (SEA)
Disney+, Senior Manager/ Manager – PR & Communications (SEA)
Disney+, Senior Manager – Creative Communications (SEA)
Disney+, Senior Manager/Manager – Social Media (SEA)
Disney+, Director/ Senior Manager – Brand Marketing & Partnerships (SEA)
Disney+, Graphics Designer (SEA)
For example, a Subscription Management Manager at Disney+ would have to:
Set a vision and strategy for introducing new payment methods and enhancing our current offerings.
Responsible for improving payment infrastructure.
Define, develop, a/b test and launch product improvements on a global level.
Own decisions on the product area on the roadmap and what to roll out.
Communicate vision and strategy broadly throughout the organisation.
Maintain relationships with payment partners, banks, card schemes and acquirers.
With Disney+ looking to fill in these positions in Singapore, it seems highly likely that the streaming service will be reaching our shores in no time.
Disney's own streaming service
Disney+ is a video-on-demand streaming service which features movies and series from:
Disney
Pixar
Marvel
Star Wars
National Geographic
Disney+ is currently available in more than 10 countries including the U.S., UK and Japan.
It is expected to launch in most markets worldwide in the next two years.
Also read: How to Write an Effective Privacy Statement for Websites