Today's Episode – The Best Privacy Focused Zoom Alternative out there in 2020 – Jitsi Meet:
You can check the best FREE Zoom Alternative – Jitsi Meet here – https://jitsi.org/#download
What makes Jitsi Meet the best Free Zoom Alternative is it is fully encrypted means your data is safe. To use Jitsi Meet you don't need to download the app or create an account to join/host meetings. Most importantly you get a tile view.
Besides, this there are a lot many things Jitsi Meet can do:
Share screen, documents and more
Using Etherpad edit documents
Fun meeting URLs for every meeting
Send emojis & messages during a video call
Invite others to join a call using custom URL
Features – Jitsi Meet (Best Free Zoom Alternative)
Better HD audio and sound quality
Anonymous no need to create an account
Encryption to keep conversations private
100% open source means anyone can modify and customize it according to the need
Platforms you can use Jitsi Meet best Zoom alternative on – Android, iOS, Web, React-native & Electron app.
Now, that we know what this app is let's learn how to use Jitsi Meet
How to use Jitsi Meet?
Since there is no need to create an account you can use the app by visiting https://meet.jit.si/ or can install the video conferencing app.
1. Once you have the app or you are there on the web page under Start a new meeting, key in meeting name.
Note: Try to make the name unique. Avoid names like friends groups, video calls, beer groups, etc. Instead, you can make it Cloudmeetingwithfriendstosharemoments.
2. After giving a name to the meeting click Go.
3. You will now be asked to give a microphone and camera permission. Once you Allow you will be able to host the meeting.

4. That's it your video call will now be started.
In addition to this, if you want to secure things and prevent it from ZoomBombing you can add a password. To do so, after starting the call click the information icon . It is placed at the right corner of the screen.
Choose add password > enter the password. It's that simple: you have just secured Jitsi call with a password.
Now, that you know how to password protect your call it's time to invite friends. So how do we do that?
How to invite friends on Jitsi Meet?
Without any friends you cannot make a video conference call/ video call, so let's invite them.
To do so, a meeting URL appended by the meeting name is all what you need. In this case, it will be – https://meet.jit.si/ Cloudmeetingwithfriendstosharemoments. Also, if you have set up a password share, the same with them.
At the time of writing Jitsi supports up to 75 callers. Also, there is no time limit to make the calls, this means you can chat with your family for as long as you want.
Jitsi Meet Tips & Tricks (Best Free Zoom Alternative 2020)
Jitsi has several features to offer like screen sharing, recording meetings, switching to tile view, etc. Using them you can host a meeting flawlessly.
Blur Background
Using Jitsi Meet best Zoom alternative you can automatically blur the background. This is a great way to hide your room if it is not clear, or you have people roaming all-around your house.
To enable the blur, click the three spots in the bottom-right corner > "blur my background."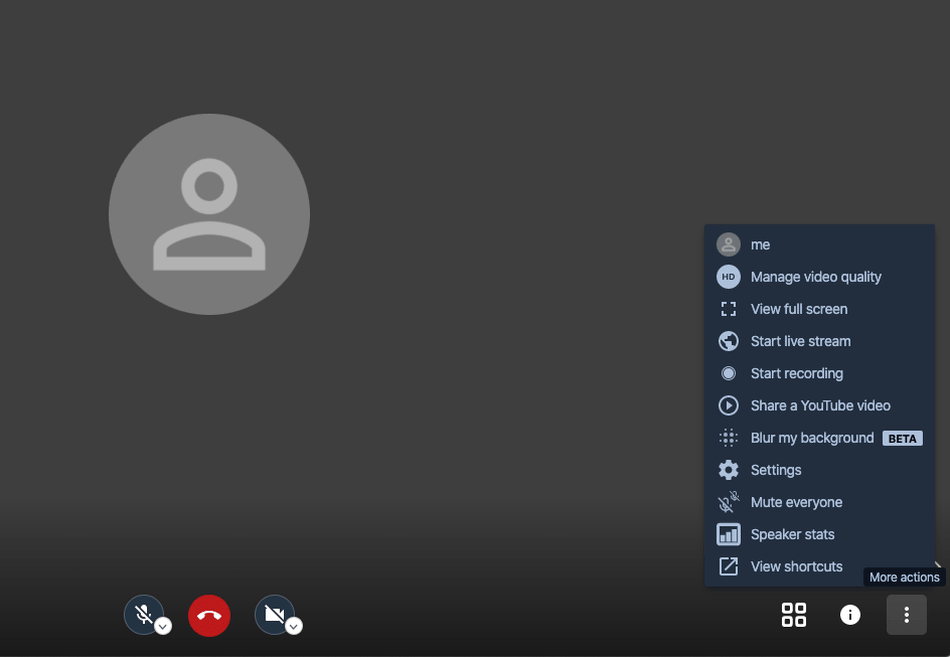 This will blur the background. To disable it re-click the blur option.
Screen sharing and recording YouTube video
For whatever reason, you would want to share screen or record a call you can do so using a screen record feature.
To start recording screen click three dots > "start recording" > login to your Dropbox account and you are all set.
That's it, the recording screen will now be stored in your Dropbox account.
In addition to this, you can share a YouTube video call to do so, click the three dots > "share a YouTube video" >paste the link > share. Now all the participants in the video call will be able to see the YouTube video you shared.
Tile View
Further, you can even switch the video call to the tile view. To do so, once the call starts to click the four small boxes at the bottom.
That's it. To quit the tile view again click the four small boxes.
Raise your hand and chat
When there are a number of people in the chat it can be confusing. Jitsi has a solution for it, the "raise/lower your hand" tool.
To speak and gain the attention click the hand icon in the bottom-left corner.

This will notify other participants that you want to say something important.
In addition to this, you can use chat box. It's present to the right of the hand icon,
That's all using these handy features you can get the best out of this video conferencing app.
Isn't it fun? Now, without creating an account or worrying about your data safety you can initiate a video call. Jitsi Meet makes everything possible now no longer you need to depend on Zoom, an app that is full of privacy issues. So, the next time you decide to make a video call, initiate a video conferencing head to this best Zoom alternative, Jitsi Meet. This app will not disappoint you.
Once you use the app, do share your experience and let us know what you like most in this video conferencing app.
STOP USING ZOOM! Here is the list of Security issues of Zoom:
Zoom lied about its end to end encryption The encryption that Zoom uses to protect meetings is TLS, the same technology that web servers use to secure HTTPS websites.
This means that the connection between the Zoom app running on a user's computer or phone and Zoom's server is encrypted in the same way the connection between your web browser Zoom claim that their app uses "AES-256" encryption for meetings where possible, but the university researchers found that in each Zoom meeting, a single AES-128 key is used in Electronic Code Book (ECB) mode by all participants to encrypt and decrypt audio and video.
ECB mode is not recommended by security experts since patterns in the plaintext are preserved when encrypted, making it easier for malicious actors that have the corresponding keys to decrypt the data.
Motherboard investigation shows Zoom's iPhone App Sends Data to Facebook Even if You Don't Have a Facebook Account Classroom Zoombombing attacks on zoom are also being reported. More bugs were also being found by NSA Hackers. Zoom was leaking users' email addresses and photos to strangers via a feature loosely designed to operate as a company directory.
An Automated tool can find Zoom meetings online that were not password protected. –https://www.theverge.com/2020/4/2/212… Calls were mistakenly routed through Chinese whitelisted servers US Senates announced that it would avoid using zoom because of the security issues surrounding the video conferencing app Singapore's Ministry of Education also bans school teachers from using zoom. German Ministry of Foreign Affairs told its employees to stop using zoom 500,000 Zoom accounts were sold on hacker forums as well as on the darknet The FBI is also warning the public to watch out for hijackers trying to infiltrate their Zoom video.
If you want more news and updates on Privacy tools and techniques just like (Best Free Zoom Alternative 2020)
Please Subscribe and follow us:
https://www.linkedin.com/company/privacy-ninja/
https://www.facebook.com/PrivacyNinjaSG/