KIDNAP SCAM – Anyone who wishes to submit information pertaining to such cases can call the police hotline or do so online.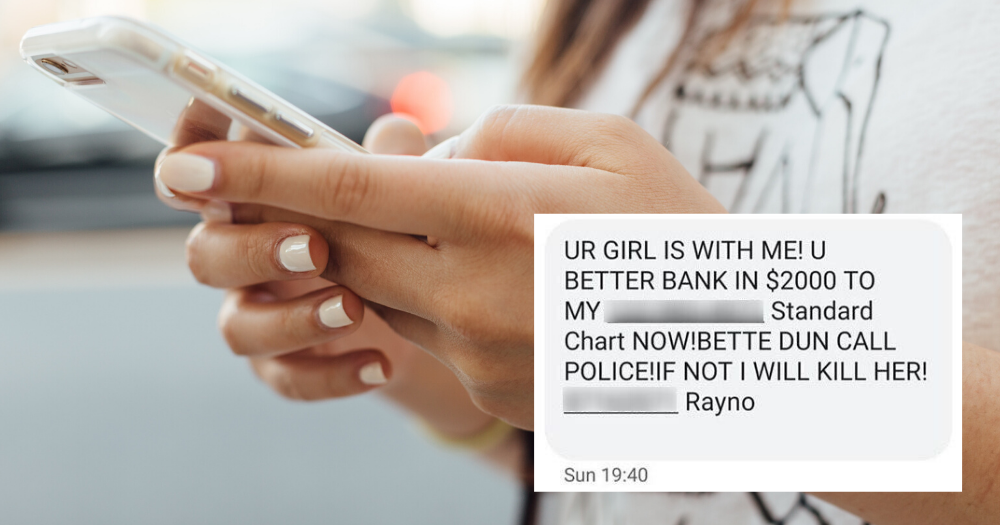 If you are someone who recently received a text message that claimed to be from someone who had kidnapped one of your loved ones and demanded you transfer over money, you are not alone.
And in case it wasn't clear already, the text message is a scam, as confirmed by the Singapore Police Force on Monday (Jun. 1).
Police received a number of reports regarding Kidnap Scam
In a news release on Jun. 1, the Singapore Police Force said that they have received numerous reports from members of the public that they have received SMSes claiming that their loved ones had been kidnapped.
The text message also demanded money as a ransom, in order to ensure the safety of the purportedly kidnapped loved ones.
Here's an example of what one of these text messages might look like: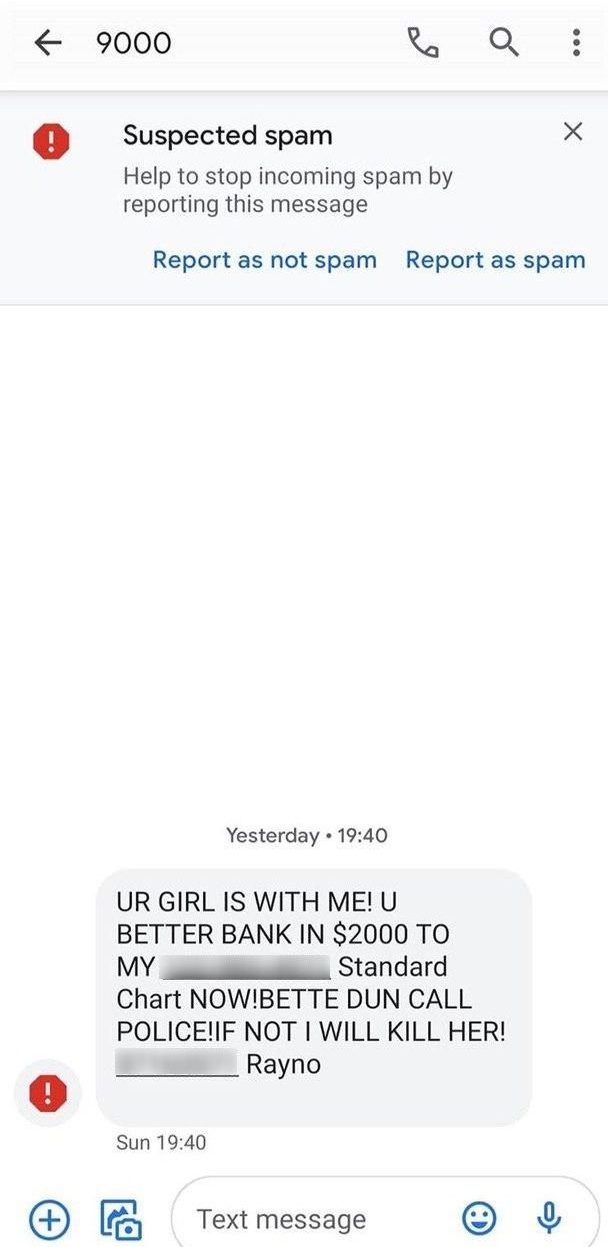 The SPF has clarified that the text messages are a scam.
The scammer might provide you with a contact number and bank details to transfer the money to.
Remain calm and don't engage, say the police
Upon receiving such a message, the first thing to do is to remain calm, 8World quoted the police as saying.
Recipients should also refrain from responding to the SMS, and block the number.
Also, do not transfer any money to the scammer.
Instead, upon receiving such an SMS, you should contact the family member in question to ascertain whether the kidnap claim is true.
Stay vigilant of sms kidnap scam
Though it's understandable to be alarmed when being told that a loved is purportedly in danger, we should always remain vigilant on the possibility of such scams.
Just remember, if it happens to you, always remember to check on your family members to ensure they're safe.
Advice for the public
SPF has advised members of the public to adopt the following measures if they receive such SMSes:
Don't panic – Remain calm and do not reply to the SMS. Block and report the number as spam.
Don't believe – Contact your loved one immediately to confirm their safety.
Don't give – Do not transfer any money as instructed by the SMSes.
Anyone who wishes to provide any information relating to such cases can call the police hotline at 1800-255-0000, or submit information online here.
For scam-related advice, members of the public may call the anti-scam helpline at 1800-722-6688 or visit the Scam Alert website.
Why Privacy Ninja?
Engage Privacy Ninja for penetration test services to prevent such incidents from happening. We not only check your codes and app for vulnerabilities, but we will also use our OSINT Techniques to look for vulnerabilities too.
Not many cybersecurity companies use OSINT Techniques as part of their penetration testing routine.
Follow our weekly Podcast!
https://www.youtube.com/channel/UCviAte_k4S2pJu-F0MI2hVw
We are currently offering free PDPA checkup and vetting of your company's privacy policy. Please do check out these links: