Scammers have hijacked three YouTube channels to display bitcoin scams impersonating Elon Musk's SpaceX channel. So far, these scams have raked in close to $150,000 in bitcoins in two days.
For years, scammers have been impersonating Elon Musk and SpaceX to perform cryptocurrency giveaways and other scams promising you significant returns if you send them a little bitcoin.
Since yesterday, three YouTube channels that were previously known as 'Juice TV,' 'Right Human,' and 'MaximSakulevich' have been hijacked and renamed to 'SpaceX Live' or 'SpaceX.'
One of these channels has 230,000 subscribers, and another has 131,000 subscribers. The legitimate SpaceX YouTube channel has 4.33 million subscribers.
All of these hijacked channels are now live streaming recordings of Elon Musk being interviewed or a SpaceX conference, and promote scams asking people to send in a small amount of Bitcoins to get double the amount back.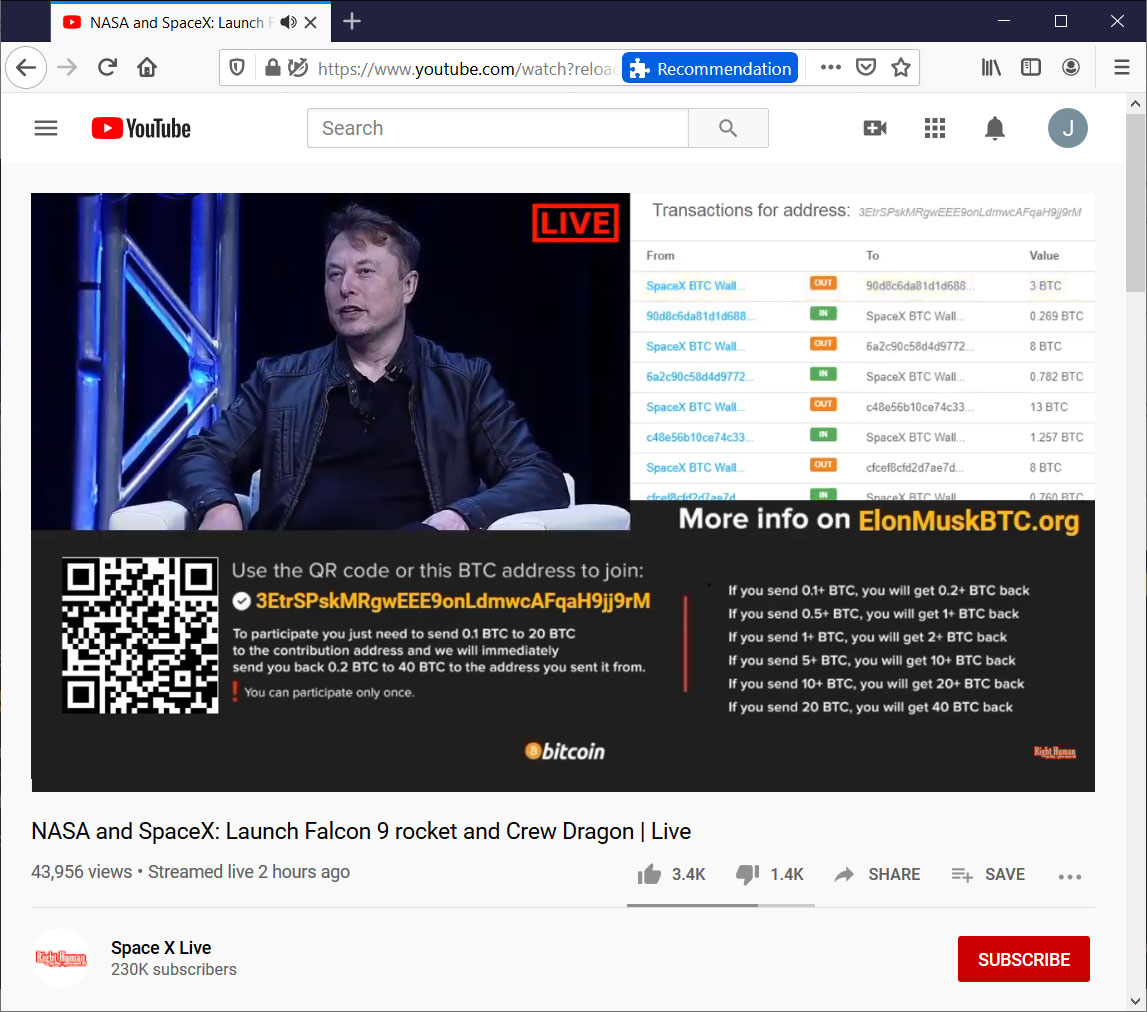 At the time of this writing, 80,000 people are watching the live stream, and the scam has generated close to $150,000 in bitcoins since June 8th, 2020.
One channel is asking users to send in bitcoins to the address 1ELonMUSK14JSGNYAcPJNqubuFByZPyjcj, which has received 29 bitcoin transactions totaling 4.08 BTC. This amount is equivalent to $39,840.18 at current prices.
The other channel using the bitcoin address 3EtrSPskMRgwEEE9onLdmwcAFqaH9jj9rM and has done far better. This address has received 84 transactions totaling 11.23 BTC, which is worth $109,658.14.
In total, the scam has generated almost $150,000 in two days simply by live streaming recorded Elon Musk videos.
BleepingComputer has contacted YouTube about these scams but has not heard back as of yet.
With these scams being around for years, it is scary how well they continue to perform.
In general, users should avoid any cryptocurrency giveaways or promotions stating that they will send you back multiples of what you send to them.
Even if the person you are sending cryptocurrency looks legitimate, you should use sites like Bitcoin Abuse to make sure they were not used in previous scams or illegal activity.