Namecheap Hosting And Email DOWN In Prolonged Outage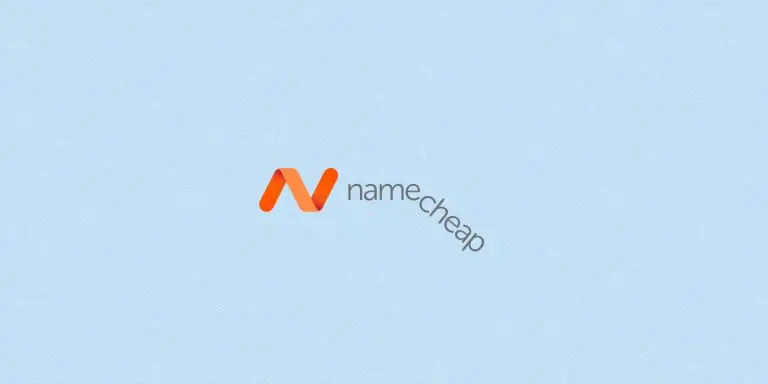 One of the world's largest domain registrars, Namecheap has been hit with a series of mysterious outages today and it is not clear why.
The company with over 11 million registered users and 10 million domains offers domain registration, hosting, private email services, and TLS/SSL certificates and has become one of the most recognizable names in the industry.
I noticed this since as early as 2:00 AM ET (7:00 AM UK time) when trying to get to my website without luck through my smartphone. Might be poor WiFi signal, I thought at first.
Considering most shared hosting services provide no better than a 99.9% uptime guarantee, I wrote this off as yet another instance of scheduled maintenance.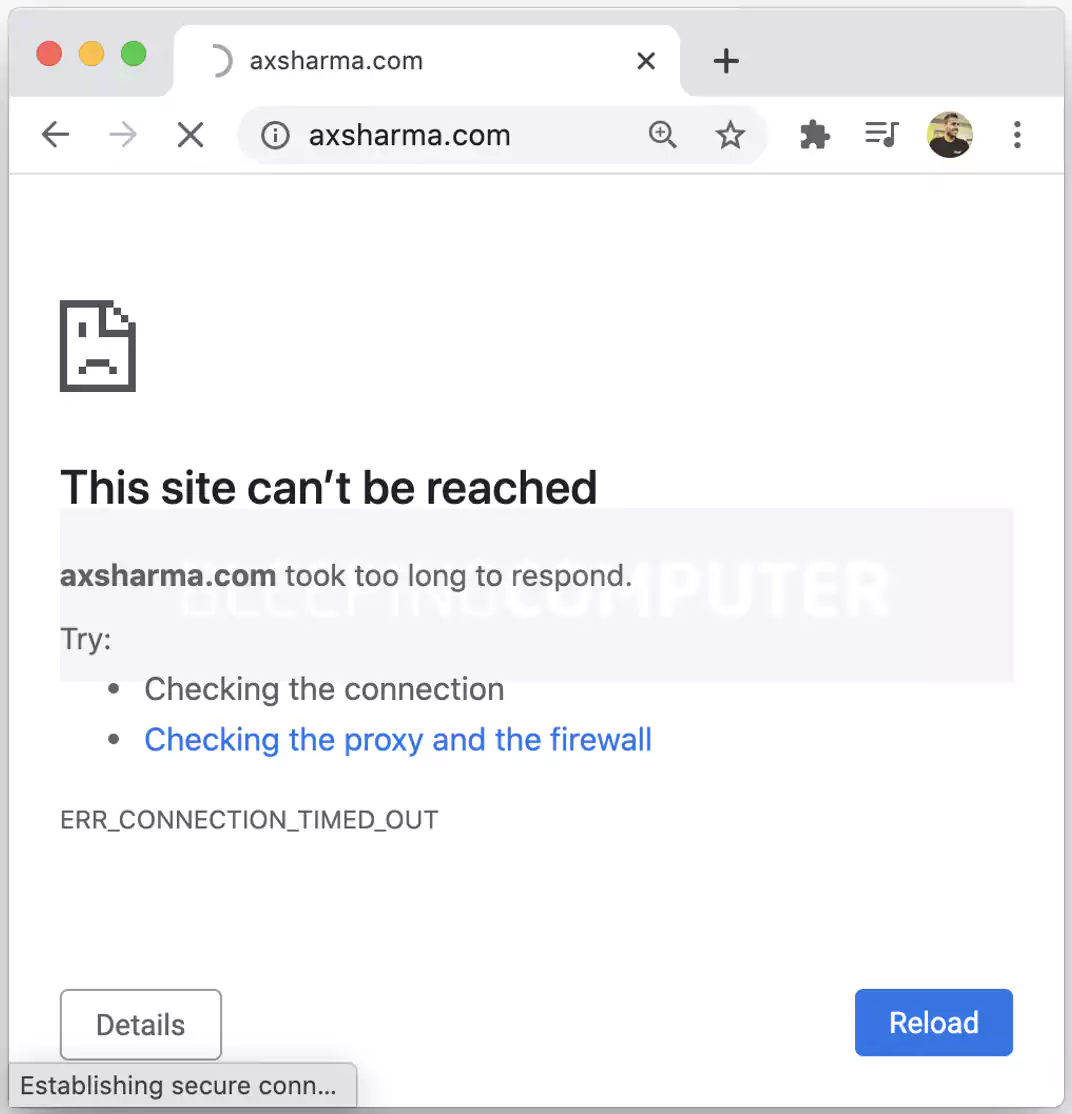 Multiple mysterious outages
When navigating to Namecheap's service status page, we see 4 advisories from today, August 30th alone.
1. Domain registrations: The very first service disruption alert dubbed "unscheduled maintenance" was issued today at 3:41 AM ET concerning domain registrations. Users attempting to register certain TLD domains were experiencing problems. At 6:00 AM ET, the company announced in the same alert they had remediated the problem, only to re-open the alert at 7:05 AM due to persistent errors, which are still in effect.
"Failed orders will be refunded to the source of payment or to your Namecheap account balance for you to be able to resubmit an order."
2. Domain ccTLD registrations: The second alert went out at 6:59 AM ET specifically concerning country-specific domain registrations for the .me, .cc, and .tv TLDs.
At 7:30 AM ET the alert read:
"The issue with .cc and .tv domains is resolved. We are still waiting for the updates from our upstream partner regarding .me domain names."
3. Private email and Namecheap website: The service outage then hit the Namecheap.com domain itself and its private email services at around 8:27 AM ET. This alert was closed at 9:20 AM ET albeit without resolution. It was merged with a fourth alert:
4. Shared hosting, private email, VPS servers, WordPress infrastructure… basically everything is down: The final alert issued at 8:29 AM ET which remains in effect prolonging this outage details multiple products were cannot be reached at the moment. There is no ETA as to when these issues will be resolved.
"We regret to inform you that namecheap.com, Shared servers, Reseller, VPS, EasyWP, and Private Email services are experiencing temporary Network connection issues at the moment. Our technical specialists are working on the issue and doing their best to shorten the downtime," reads the alert.
"The 'Connection timeout' error may be shown trying to reach the server (when opening a website, using email service, FTP, etc.)"
As of writing, the latest update on the alert is from 9:27 AM ET stating:
"Our whole team is still working hard to have the issue resolved as soon as possible. Unfortunately, there's no ETA for now. Thank you very much for your patience."
Geolocation specific timeouts persist
In some parts of the world, users are still experiencing disruptions getting to Namecheap-hosted domains.
In our tests, BleepingComputer could access domains hosted, including my own, on Namecheap shared servers from the U.S., even via VPNs. The domains, however, would lead to timeouts when accessed from UK, Canada, Mexico, and other regions.
Running a diagnostic traceroute test on my domain, for example, from the UK showed timeouts with the last point of failure being an NTT communications-owned IP (192.80.17.102).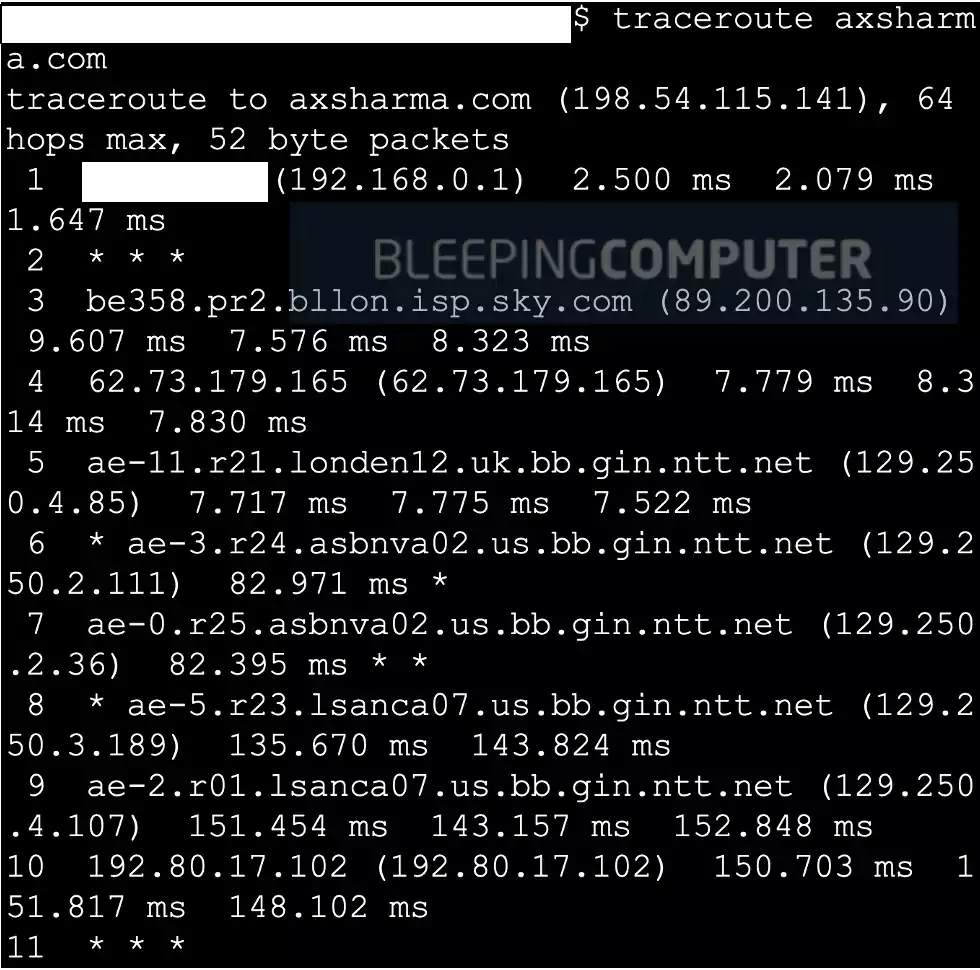 The same test earlier showed the final point of failure as a Level 3 (CenturyLink)-owned IP, 4.68.73.226. This is likely related to the Level 3 outage going on today.
It is plausible due to the prolonged outage intermediary routers had decided to use NTT's IPs on their way to Namecheap services, as opposed to Level 3's.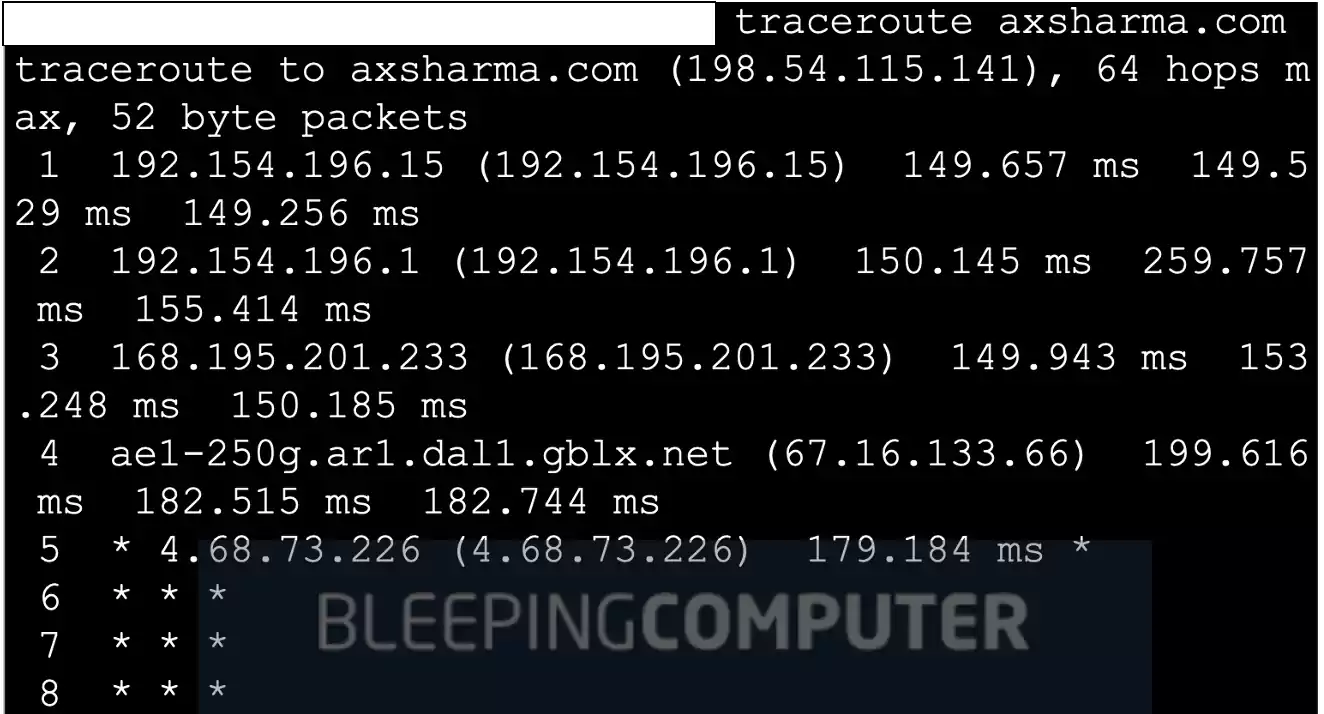 Also read: Top 10 Best Freelance Testing Websites That Will Pay You
Multiple users complaining
Twitterverse is catching on to the outage quickly which started sometime in the middle of the night for those based in North America.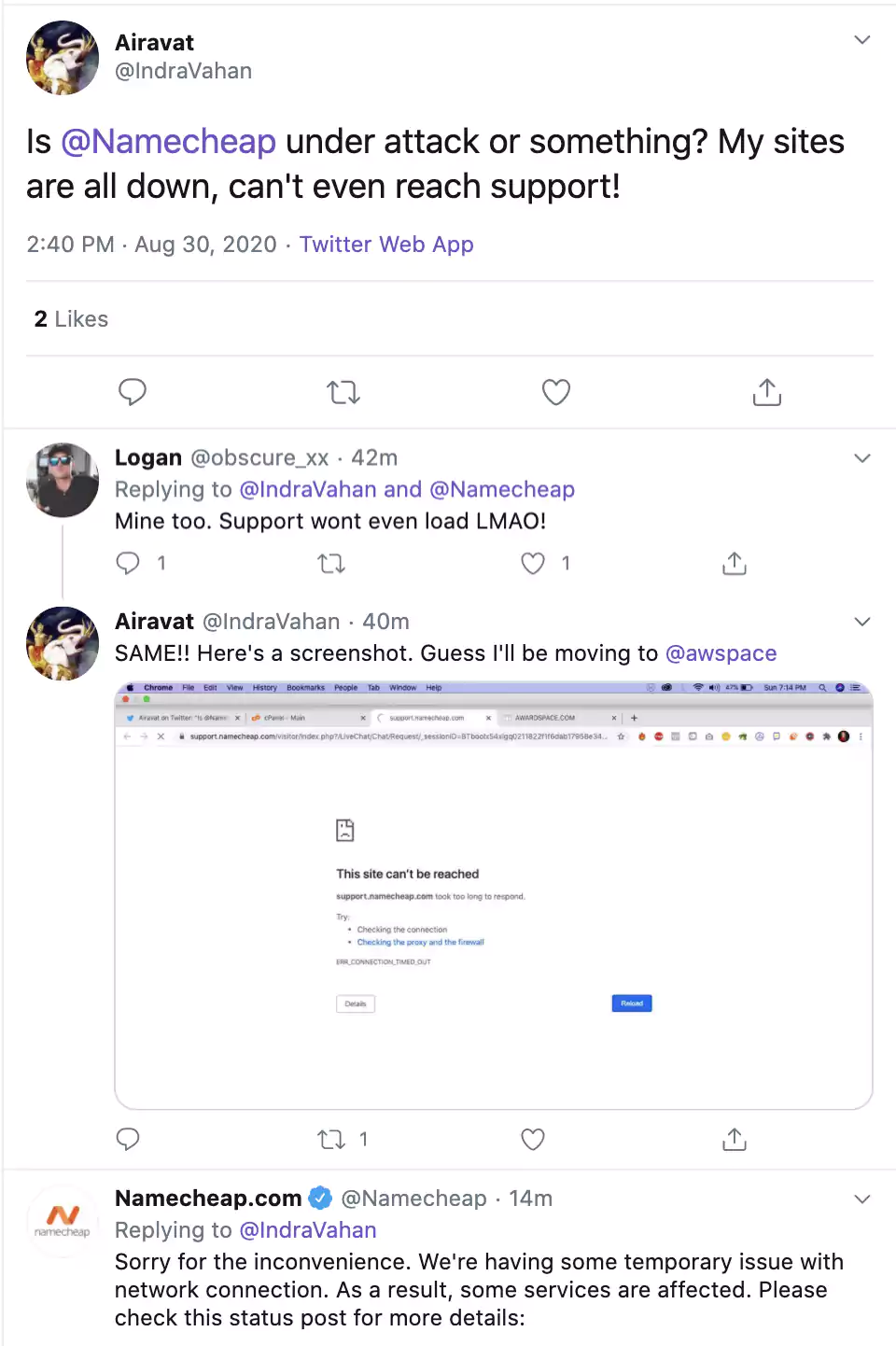 Another user Isaac Garcia questioned the company, "@Namecheap services are down, nor my domains neither the support team are working, do you have an estimated time for a solution? According to your status log the issues started with an unscheduled maintenance."
More reports of users being unable to use their Namecheap email and hosting services due to this unscheduled maintenance have emerged: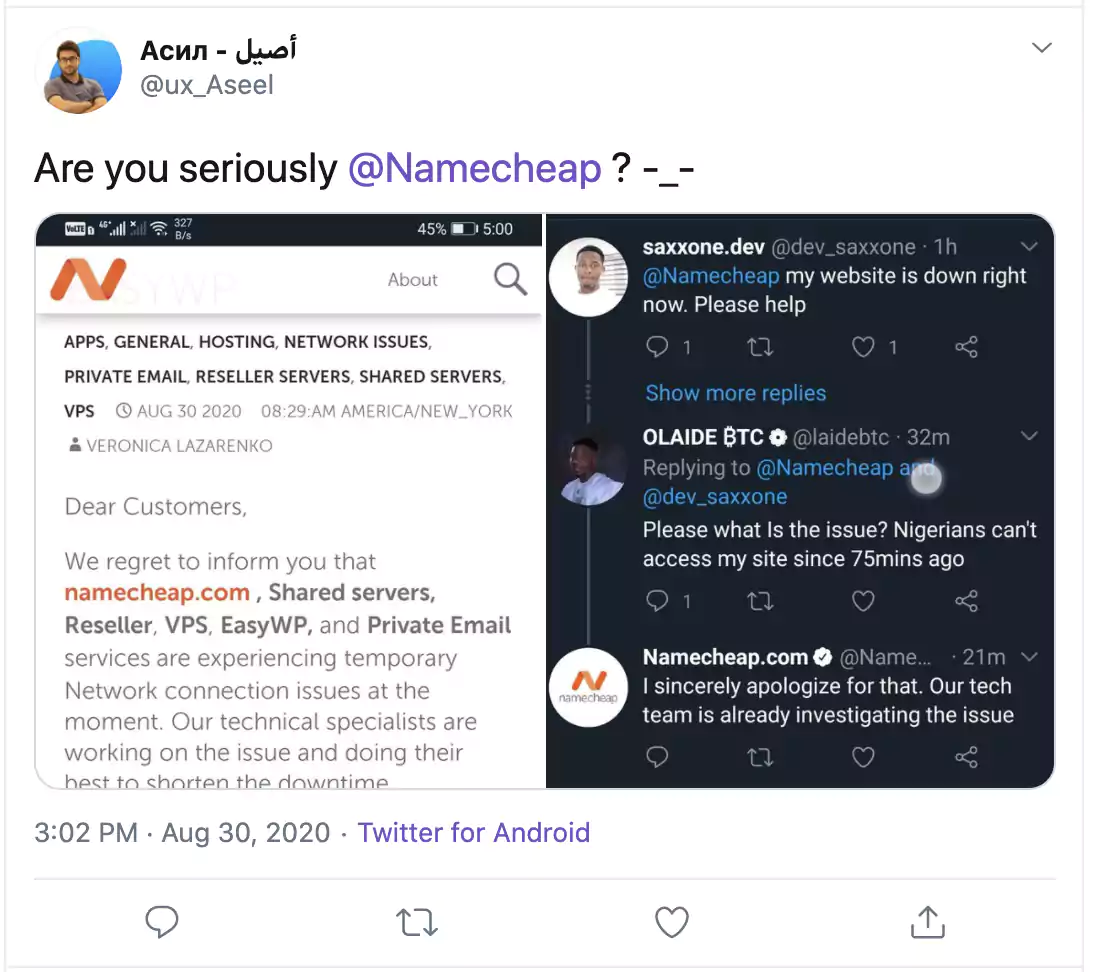 While the company is investigating the issue and we are not sure what is exactly causing it yet, it does seem strange for multiple systems of a reputable host and registrar to go down at once.
Moreover, the mention of "unscheduled maintenance" in the very first alert would ring your alarm bells too.
This is a developing story and will be updated as more information becomes available.
Update: Namecheap has resolved some of the issues. Users are advised to regularly check the status updates page.
The final update issued at 11:24 AM ET blames "network issues on the side of third-party upstream provider," at around the same time Level 3/CenturyLink is up. Therefore this incident is likely connected to the Level 3 outage.
Also read: 5 Brief Concepts Between Data Protection Directive vs GDPR
Privacy Ninja provides GUARANTEED quality and results for the following CORE SERVICES:
DPO-As-A-Service (Outsourced DPO Subscription)
Vulnerability Assessment & Penetration Testing (VAPT)
PDPA Obligations for Organizational Compliance (SkillsFuture Credit Eligible)

OTHER SERVICES:
PDPA Compliance Audit
Digital Transformation Consultancy
Data Protection Trustmarks Certification Readiness Consultancy
PDPA Data Protection Software
Smart Contract Audit